JAYAV ART, THE ICONIC PAPIER-MÂCHÉ ART
You may wonder how Jayav Art became the iconic papier-mâché art manufacturer it is today.
The adventure began in 2010 when Philippe Brousseau, a French artist of great renown was touched by a Cambodia ravaged by 30 years of war. Its people with Buddhist philosophy, its extraordinary welcome and its tolerance to any test quickly seduced him.
Then, he decided to settle in the cultural capital of Siem Reap, a stone's throw from the temples of Angkor. Soon after, he met his Cambodian counterpart, Tara, who was also passionate about papier-mâché art and had the same desire to promote this local art that was still unknown internationally.
Philippe and Tara want to create their Papier-Mâché Art with conscience. It's why they focus on an environmentally friendly approach, realizing that every step they take affects the planet and the people on it.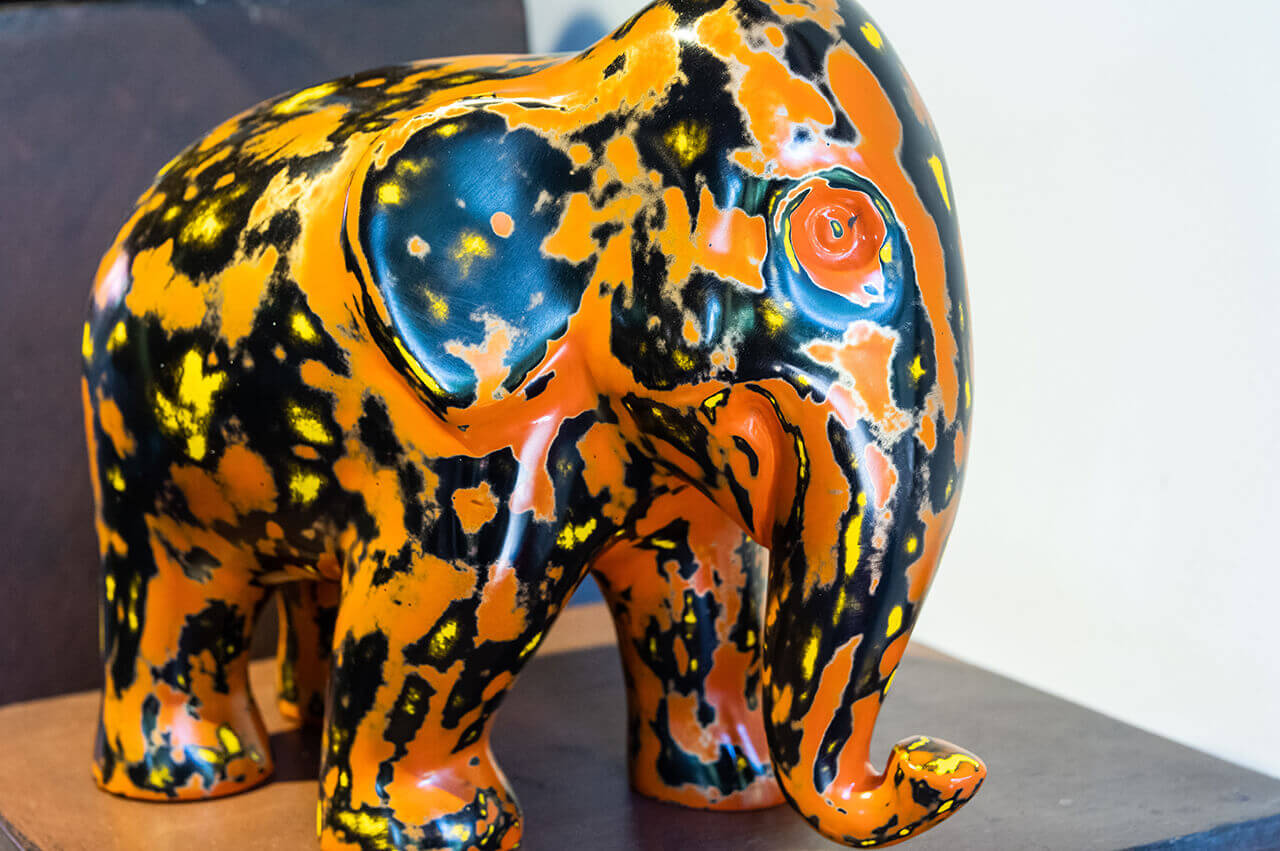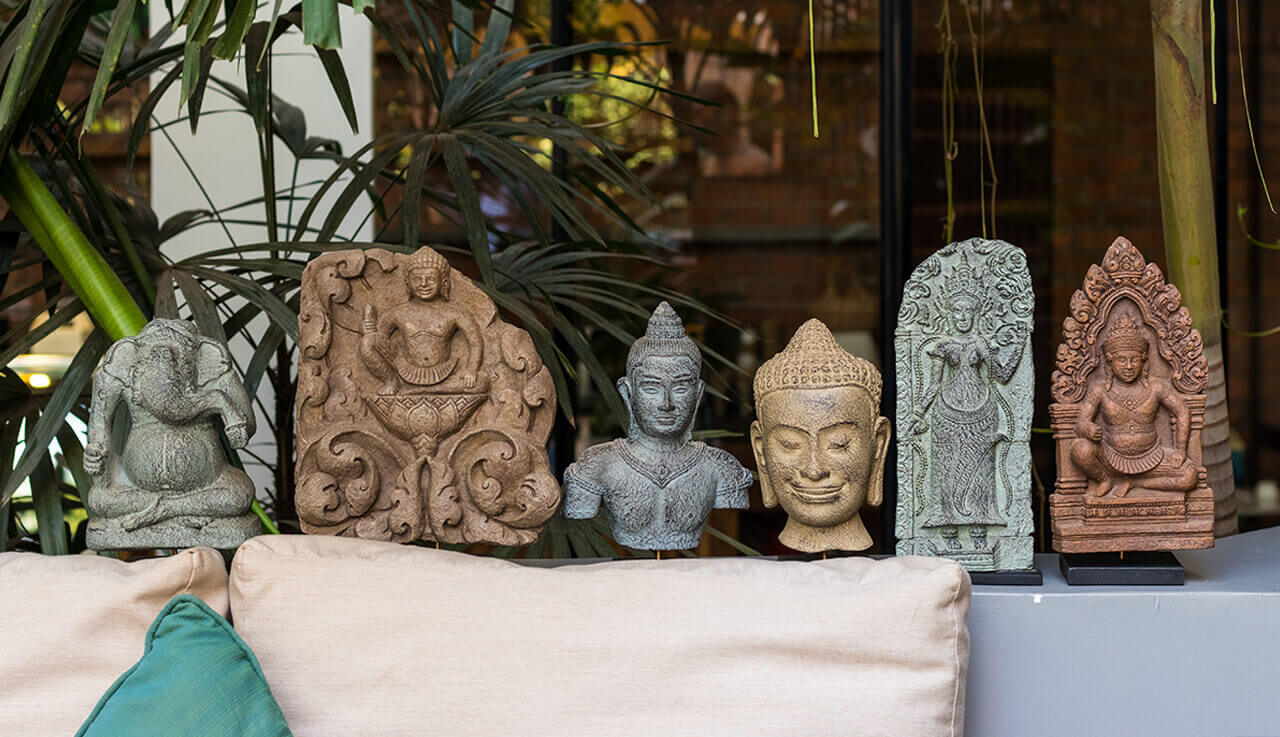 In 2011, they recruited deaf Cambodians and the Jayav Art House was born. Cambodian art became exportable!
Furthermore, they opened a shop for tourists that quickly became a great success for those wishing go home with one of the most beautiful imitations of the sculptures of Angkor Wat.
Finally, in 2018, Jayav Art received the endorsement of His Majesty the King of Cambodia. As a result, Jayav Art's lacquered elephant became iconic in the world of Angkorian souvenirs.
When Cambodia closed to tourists in March of 2020, Philippe and Tara took it as an opportunity to perfect their models, develop their range of papier-mâché art products and tackle the distribution of their unique pieces via the internet.
WHAT IS THE MEANING OF JAYAV ART?
The name Jayav Art comes from a contraction of Jayavarman and Art. Jayavarman VII was a Khmer king who left a significant imprint on ancient Khmer history. He was not only the greatest king, but he was also the last powerful monarch of the Khmer Empire.
He built Angkor Thom and the Bayon Temple, two places whose history fascinated both Philippe and Tara and whose art inspired them throughout their adventure.
First, they were inspired by the traditional Khmer masks of the Ramayana that were used for dance ceremonies.
Then, thanks to their know-how, mutual experience and months of research, they managed to develop a unique process that uses both the ancestral techniques of papier-mâché art and the most artistic patinas of the trompe-l'oeil technique.
MEET THE PAPIER-MÂCHÉ ART EXPERTS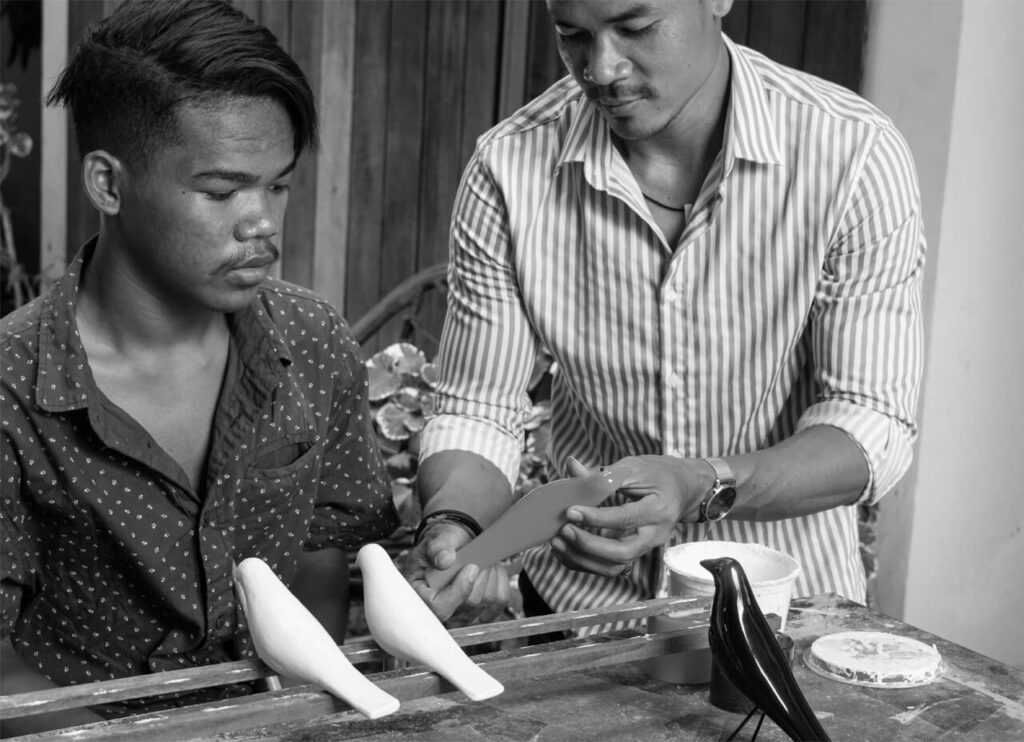 ''My parents raised me not to look at people racially. They taught me that we're flowers in the Great Spirit's garden. We share a common root, and the root is Mother Earth. The garden is beautiful because it has different colors in it, and those with colors represent different traditions and cultural background.''
General Manager / Co-Funder
''Although I stand by my personal beliefs and ethics, I try to remain open to seeing the truth in what others think. I take on the role of an explorer and allow myself to be fascinated by how the unique configuration of a person's personal traits, family background, culture, schooling, and life experiences shapes their unique perspective.''
Creator / Co-Funder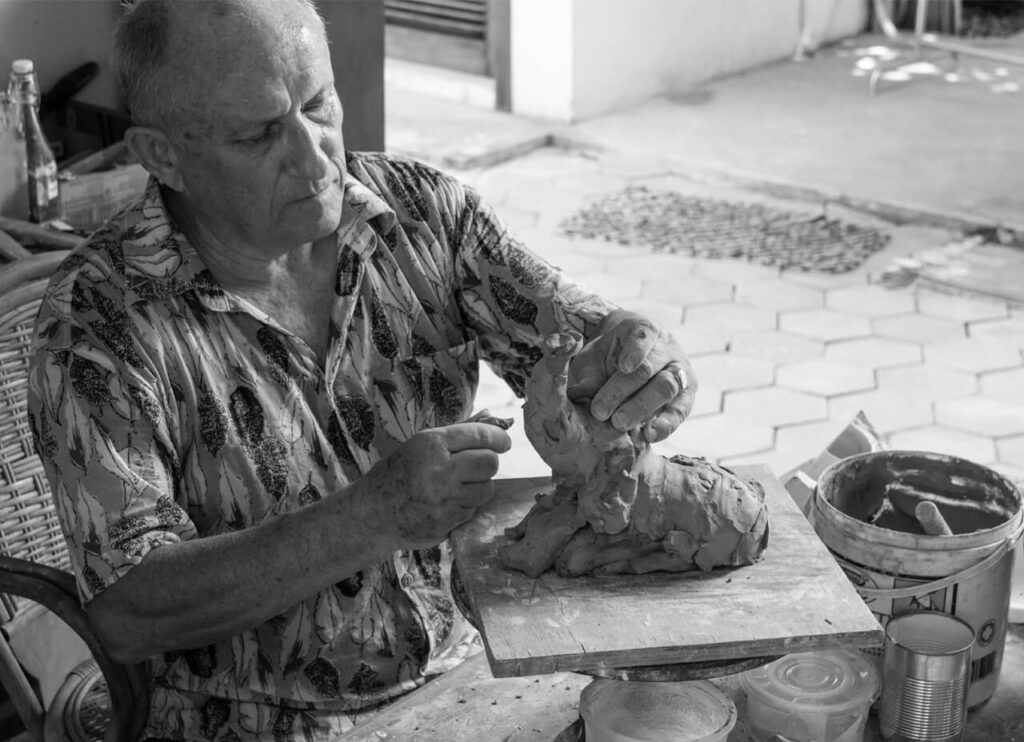 HOW WE MAKE OUR PAPIER-MÂCHÉ ART?
All of our sculptures are entirely handmade with recycled paper and vegetable fibers. They are then decorated with natural pigments and acrylic colors. Our environmentally friendly manufacturing process also makes it possible to recycle old newspapers.
After making an earthen model, we use a mold to make the sculptures from recycled newspapers and various natural products. Then using a unique technique and a patina based on natural colors, we can give our sculptures the aged look of bronze or stone with the advantage of being strong, light and easy to carry.
The result is impressive! The sculptures really appear to be made from stone, bronze, wood or terracotta. Only once the object is in hand do you realize that it is made from paper.
Papier-mâché is lightweight. Our creations appear as heavy as any other sculpture when you see them, but of course they are not, making them easily transportable and easy to ship. Ingenious!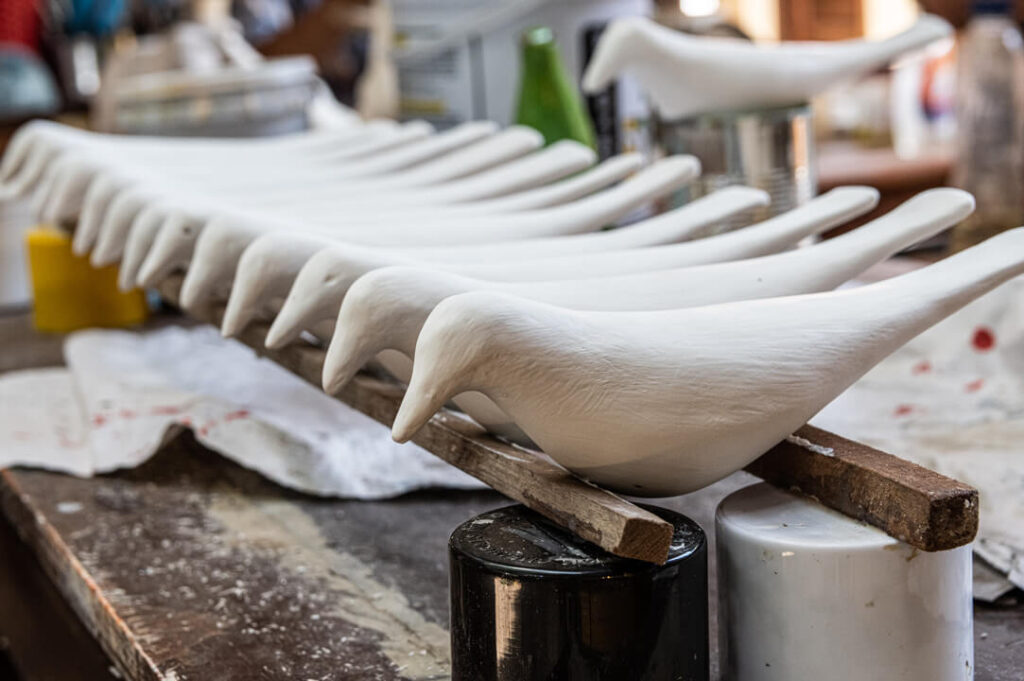 Jayav Art is a social enterprise that makes environmentally friendly papier-mâché art while creating decent jobs for vulnerable people.