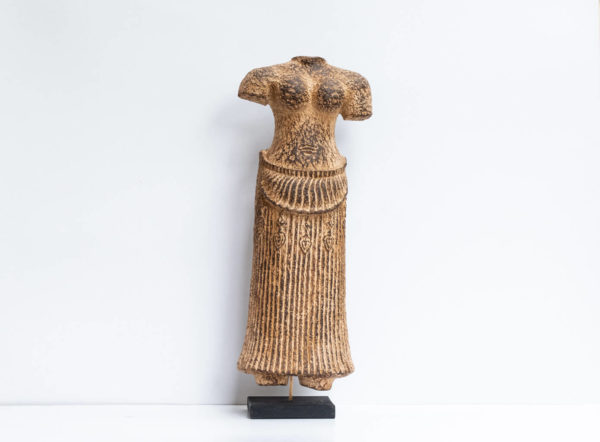 The Goddess Uma
$83.00
Patinaed Illusion of Antique Carving, made in Papier-mâché, Sustainable and Super Light!
This Khmer goddess on a wooden pedestal made from papier-mâché is a masterpiece, handmade by the artist community of Jayav Art. The Goddess Uma is an original patina illusion artwork made from recycled paper. As a result, while it looks like a stone sculture, this eco-friendly artwork is as light as paper and as solid as stone! Invite the The Goddess Uma into your home and with her, a touch of harmony!
In stock
Description
Patinaed Illusion of Antique Carving, made in Papier-mâché, Sustainable and Super Light!
Goddess Uma is the Hindu Goddess of power, nourishment, harmony, devotion, and motherhood. She is Devi in her complete form. Along with Lakshmi and Saraswati, she forms the Tridevi.
Uma is the wife of the Hindu god Shiva. She is the reincarnation of Sati, the first wife of Shiva who immolated herself during a yajna (fire-sacrifice).
In Shaivism, she is the recreative energy and power of Shiva. And she is the cause of a bond that connects all beings and a means of their spiritual release. Furthermore, she is also well known as Kamrupa (one who gives a shape to your desire). In Hindu temples dedicated to her and Shiva, she is symbolically represented as the argha. She is found extensively in ancient Indian literature, and her statues and iconography grace Hindu temples all over South Asia and Southeast Asia.
Jayav'Art Difference

Creative Art Deco
The recycled materials and handmade process make each item one of a kind, with a story to tell.

Smart Sculptures
Papier mache is light, so suitable for masks and other sculpture intended to be carried, and can take very fine detail. It is also solid as wood!

Sustainable Art
At Jayav Art, we help people with disabilities to fully participate in work-based learning and we recycle old paper into beautiful works of art.
Specifications
| | |
| --- | --- |
| color | wood |
| finish | water patina |
| size | unisize |
| dimensions | 12 x 06 x 44 cm |
| weight | 288 g |
Jayav Art is a social enterprise which transforms recycled paper into environmentally friendly sculptures while creating decent jobs for vulnerable people. The adventure began in 2010 when Philippe Brousseau, a French artist of great renown was touched by a Cambodia ravaged by 30 years of war. Then, he met his Cambodian counterpart Tara, who was also passionate about papier-mâché art and who had the same desire to promote this local art that was still unknown internationally. Philippe and Tara wanted to create their eco-friendly artwork with conscience. It's why they focus on an
environmentally friendly approach
, realizing that every step they take affects the planet and the people on it.
Read more
How do we make sustainable art work from papier-mâché?
Firstly, all of our sculptures are entirely handmade with recycled paper and vegetable fibers. Then, they are decorated with natural pigments and acrylic colors. Finally, our
environmentally friendly
manufacturing process makes it possible to recycle old newspapers. As a result, our papier-mâché artworks are lightweight while appearing as heavy as any other sculpture. This means they are easy to ship.
Read more